Past Special Guests – 2020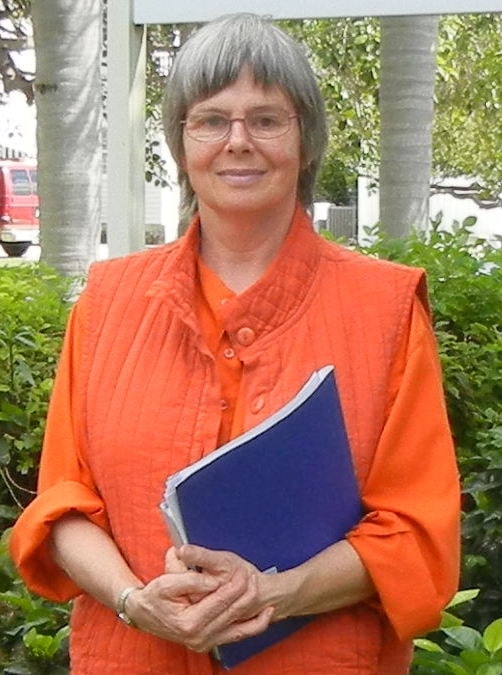 Visit from Pravrajika Gitaprana
January 21-27, 2020
Pravrajika Gitaprana, minister in residence of Vivekananda Retreat, Ridgeley, New York, visited the Vedanta Center of St. Petersburg in January, 2020. She was the guest speaker on Sunday, January 26, 2020. The topic was Freedom That Matters.
Pravrajika Gitaprana grew up in Berkeley, California and was fortunate to be in close contact with her aunt, Mrs. Dorothy Madison, a student of Swami Ashokananda of Vedanta Society of Northern California, San Francisco, who introduced her at a tender age to the Swamis of the Vedanta Society, Berkeley. Afterwards she came in contact with another illustrious monk of the Ramakrishna Order, Swami Swananda, then Minister of the Vedanta Society of Berkeley, who influenced her deeply in monastic life. Her interest in Eastern Philosophy and religion continued to grow as she studied Sanskrit and Vedic chanting under the tutelage of her Aunt Dorothy.
She joined the convent in Vedanta Society of Southern California, Hollywood, California in 1984 to be near her Guru Swami Swahananda. She served there for twenty years before being sent to the Vivekananda Retreat at Ridgeley, New York. She is well trained in various Pujas, and in the art of singing and chanting.
Pravrajika Gitaprana began the Sunday service by suggesting that she would do the morning lecture Ridgeley style – this meant there would be prompts that she wanted the audience to respond to. The devotees did not disappoint. She anchored her lecture in readings from Swami Vivekananda's Karma Yoga. She suggested that our minds should not connect to bad things, of which, hate is one. She went on to suggest how we should tune our mind to the right bandwidth. If we don't, hate begets hate.
To fortify this teaching, she went on to explain the concept of 'I", "Avidya" and "Samskara" and how that prevents us from experiencing the Truth. Meditation is the one way to overcome these impediments in seeking the Truth. When we overcome these impediments, that is the definition of Freedom that matters. This is a journey that each of us must undertake – she further explained this by quoting Swami Vivekananda: "What do I care if Mohammed was a good man or Buddha! Does that change my own goodness or evil? Let us be good for our own sake on our responsibility. Not because somebody way back there was good."
She has visited the Center many times and we look forward to seeing her again in future.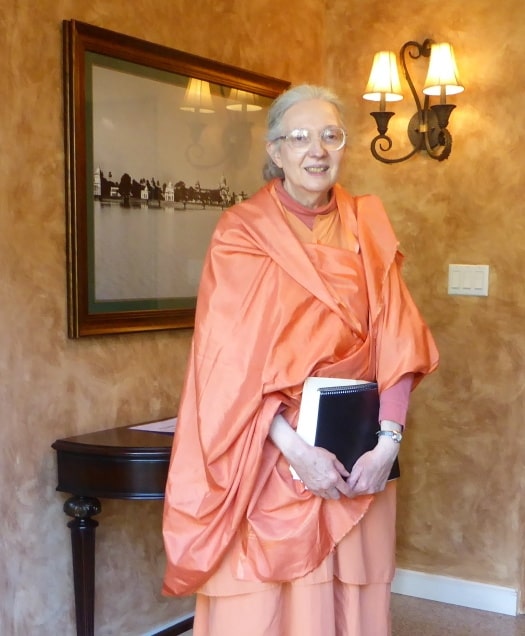 Visit from Pravrajika Shuddhatmaprana
January 28 – February 5, 2020
Pravrjika Shuddhatmaprana, a nun in residence at the Vivekananda Retreat, Ridgely, New York, visited the Vedanta Center from January 28 through February 5, 2020. She was the guest speaker in the chapel on Sunday, February 2. The talk was titled Swami Brahmananda on Spiritual Practice.
In her lecture Sunday morning, Pravrajika Shuddhatmaprana challenged the notion that meditation is being practiced by all for spiritual purposes only. She suggested that many practice meditation for secular reasons also. Three conditions were necessary for spiritual goals:
The mind should be trained to free itself from the senses and we should do meditation every day. When one meditates every day at the same time and place, there is an element of tuning the mind to what it should expect. This discipline starts to ready the mind.
The mind is then trained to track thoughts; we should be in control of mental waves. We should tune out others' words and rein in our own emotions. Anger and hatred are not good emotions and we should rid the mind of them. When one is trained in concentration, one then learns to differentiate between good and bad.
Subsequently, mind is trained to love for the Goal; a peaceful mind can meditate better. If we love our ego, we will meditate on it. To meditate on God the needle of mind should be pointing towards God.
While she suggested discipline in getting ready for meditation, she also said that spiritual practices need not be limited to just certain times during the day and one can, through japa of the mantra, be with God the entire time. Japa allows you to continually remain focused on the goal. She stated that this is hard work and there is no such thing as unearned income on the spiritual path.
This was the second visit by Pravrajika Shuddhatmaprana to the St. Petersburg Center and we are looking forward to seeing her again in the future.
To read about past guests to the Vedanta Center, please click on the name below:
Swami Prasannatmananda
Pravrajika Vrajaprana
Swami Mahayogananda
Pravrajika Gitaprana​
Swami Tyagananda
Swami Vedananda
Swami Medhasananda
Swami Chandrashekharananda
Pravrajika Shuddhatmaprana
Swami Yogatmananda
Swami Nirakarananda